Liticorp has provided Trial Presentation Services for attorneys across the nation, in courtrooms from Chicago to Detroit, Nashville to St. Louis. Our Trial Presentation Specialists are highly practiced in the finer details of the software they use, and know all of the ins and outs of the hardware, too.

▪ Liticorp Trial Presentation Specialists are available to run the entire system. We monitor the system to ensure peak performance, and assist with operation of the components. We run the software, making sure that all evidence is displayed within seconds of being introduced.

▪ Liticorp supports and uses many of the top trial presentation applications, including Sanction II and TrialDirector. We digitize and synchronize video, image and code documents, and scan photos. We create static images like timelines, tables and graphics, and computer animation of all kinds.

▪ Liticorp provides Dual-Monitor User Interface, which means all toolbars, video controls etc. are available separately from the main presentation screen. The Presentation screen is then completely clean of any buttons and toolbars.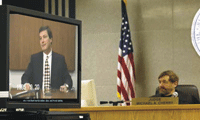 Liticorp is also available to help prepare digital document imaging for trial presentation. Contact us for more details.