Outside of the deposition conference room, Liticorp continues to excel in mobile, location videotaping techniques.

Our videographers have taped in the remains of an exploded coal-burning power plant. They have videotaped and photographed several death-row prison cells leading up to Illinois' moratorium on the death penalty. We videotaped the E2 nightclub the night after the tragedy. We were on site to tape the debris left by the Porch Collapse tragedy in the summer of 2003.

We use three-chip digital cameras. Boom, shotgun, and/or wireless lavaliere mics when called for. We use powerful DC lighting with extended battery life. We shoot from tripods, shoulder rests, and all of our videographers are practiced in the use of moble camera stabilizers.

When it has to be right the first and only time, Liticorp comes through for you.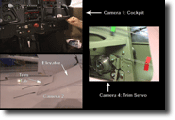 [excerpt from Aviation related case]